"The painter's appreciation for beauty is more concious, for he spends his life trying to communicate his feelings to others." Emile Gruppe
There are as many methods as there are artists. As long as it is technically sound, there is no "right" or "wrong" way to work. It is up to each artist to find what method works good for him.
So, here are some of the tools and tecniques that have worked for me......
Supplies and Methods: Always have a small sketchbook with which you can work out your composition and values. Mine is only 4"x6".
Watercolor
(in the studio)
Palette: I am using a Sterling Edwards Palette at the moment and it works great for me - big wells to accomodate big brushes and the plastic is stronger than many others. I also like the Frank Webb Palette and the John Pike Palette.
Colors: My favorite pigments are Winsor Newton, though I sometimes use Holbein. I arrange them on my palette like a color wheel.
Aureolin, New Gamboge, Raw Sienna, Burnt Sienna, Quinacridone Red, Rose Madder (permanent), Alizarine Crimson (permanent), Ultramarine Blue, Cobalt Blue, Antwerp Blue, Winsor(Thalo) Blue, Manganese Blue, Winsor(Thalo) Green, Sap Green. On the inside left are two colors I am trying out, Quinacridone Gold (which I like) and Naples Yellow (which I am not so sure about).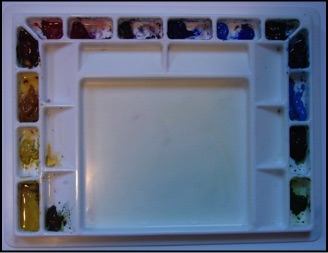 Brushes: I have WAY too many brushes in jars in my studio, but here are some of the ones I use most often.
Assorted Flats: 1 1/2", 1", 3/4", 1/2" I also have 2" and 3" Skyflow brushes, for big washes, that are not shown in this picture.
Assorted Rounds: Large Quill Mop, Synthetic Round #14, synthetic Round #8, Rigger #3 I have a Kolinsky Sable #8 not pictured that cost so much I am almost afraid to use it!
Special Brushes: small Sword/Dagger, Japanese Hake, scrubby little bristle brush I got at the hardware store (cheap!).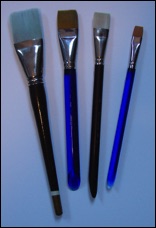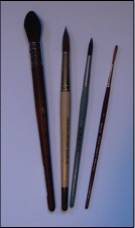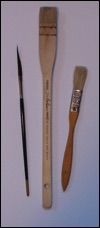 Everything Else:
1/8" wood board for holding paper.
Paper (I like Arches cold pressed best, with Waterford a close second).
Sponge (doesn't have to be natural).
Spray bottle (for adding texture).
Credit card or something similar (for scaping into paint).
Clips to hold the paper to the board (or you can use masking tape).
Pencil: 2b-4b and kneaded rubber eraser (not pictured)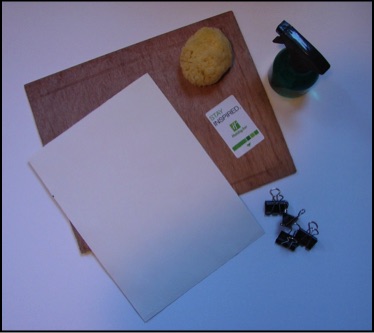 I paint standing at a table with the board slightly elevated at one end. If I want to paint totally upright I have a little table easle. Not pictured are the many rolls of paper towels I run through, or the two glass jars I put water in.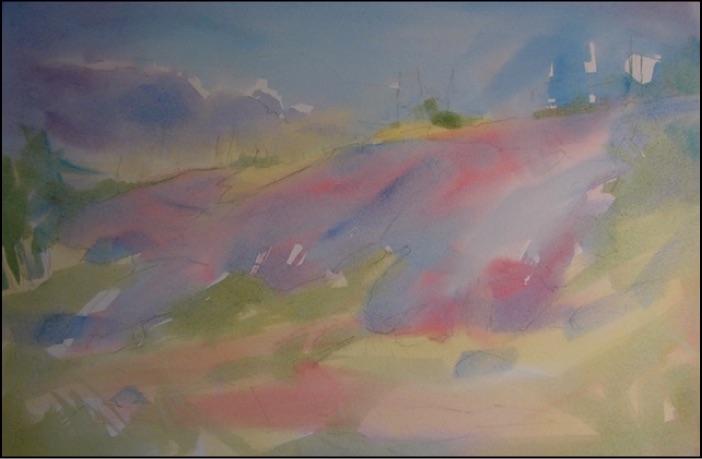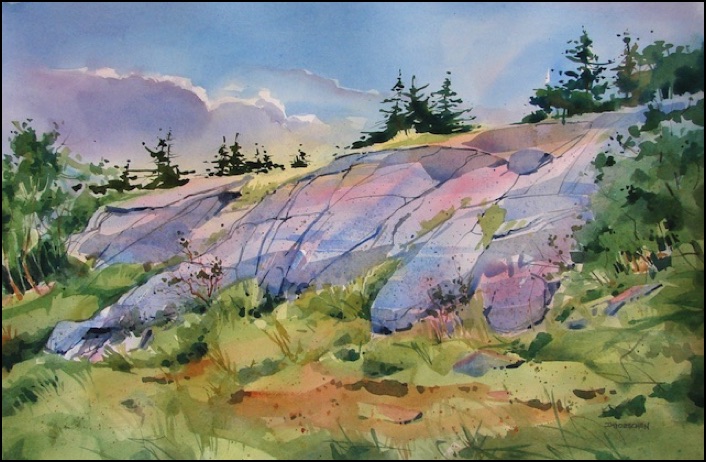 Basic Steps - I usually take 4-5 passes over the whole painting with drying time in between.
1st pass: Basic pencil sketch on paper. Big shapes, broad gestures, no detail.
2nd pass: Wet color into wet paper. Broad sweeps of transparent colors. Keeping the values light.
3rd pass: Beginning to add various shapes to break up the areas, still using a big brush (1" flat). Mainly mid-tones
Final pass: Move to smaller brushes and adding details. This stage can take a while because most of the time is spent thinking about what needs to be done. 2/3 of the time spent in decision making, 1/3 of the time spent actually painting. Adding shadows and darkest darks.