There are as many methods as there are artists. As long as it is technically sound, there is no "right" or "wrong" way to work. It is up to each artist to find what method works good for him.
So, here are some of the tools and tecniques that have worked for me......
Supplies and Methods: Always have a small sketchbook with which you can use to work out composition and values. Mine is only 4"x6".
Watercolor, Plein Air:
Scaled down from the studio....
Selection of watercolor brushes: Both rounds and flats, a rigger
Bristle brush for special effects
Pencil and kneaded rubber for sketching
Sponge
Water container: mine telescopes to take up less room
Paper towels
Small palette with favorite colors and damp sponge (keeps colors damp)
Single edge razor blade
clamps to hold paper on board
Masking tape (not pictured)
Watercolor paper: I usually stick to Arches paper and 9x12 size
Sunscreen and a wide brim hat
"Let the painting tell you what it needs" Charles Reid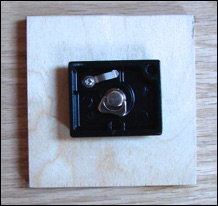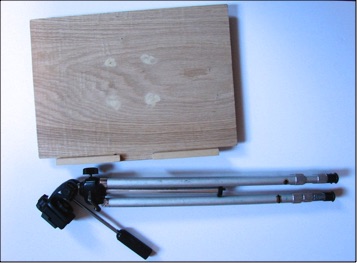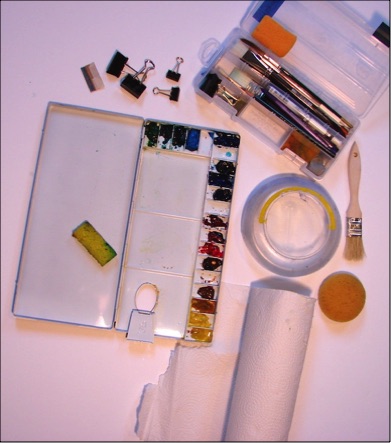 Photography tripod used as an easel and board to attach paper. The board has a "quick release plate" on the back which allows it to be connected to the universal mount on the tripod. I use this with all my different media when working outdoors.
This "quick release plate" and universal tripod mount attaches to the board and then to the tripod to make an outdoor easel.
Oils, Plein Air:
Scaled down from the studio....
Pochade box. Quick release plate on the bottom allows it to be attached to tripod. Painting panels fit in the lid while working.
Palette. Sometimes I use wooden, sometimes disposable paper palette.
Assorted oil brushes
Painting knife
All purpose tool for repairs
Sunscreen and a wide brim hat.
Clips, hooks, beiners, little bungees (all just in case...)
Rags
Container for mineral spirits
Panels for painting
Pigments and tubed mediums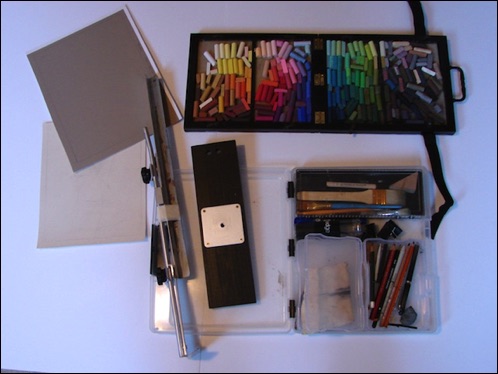 Pastels, Plein Air
Scaled down from the studio....
My homemade palette for pastels. It has two covers for the sticks on each side and folds closed to 8x10x1.5.
Plastic box holds:
Clips
Little bungee cords
chamoise cloth
pencils, charcoal, kneaded rubber for sketching
soft brushes to "erase" pastel
single edge razor to sharpen pencils, shave pastels
Rectangular black board has plate which attaches to tripod. The box of pastels sits on it (held with bungees).
Aluminum mini easel from Heilman's which unfolds to hold the painting board and fits into slots on the black board (which is attached to the tripod).
Pastel paper which will attach to the painting board with masking tape .
Whatever media I am using goes into a daypack that is easy to carry or a canvas carry bag. Don't forget to bring water to drink.
Be ready for wind, rain, bugs, chatty people, advice-givers, critics, sun, heat, cold, curious wildlife. I have encountered all these, though never more than one or two at a time. And I found out it wasn't nearly as bad as I had thought it would be. In fact, I've almost always had a delightful time!
The methods, step by step, that I use when I am working outdoors are no different from what I use in my studio except in one respect: speed!
When painting outdoors, in natural light, you have about two hours before the light changes completely. Some people will come back to the
same spot on subsequent days, but I have never had much success with that. No two days have the same light or "feel" to them.
So you must paint quickly and efficiently. Don't get fussy and don't "chase the light" (constantly changing your light effects and shadows as the
day progresses).
Not easy, but lots of fun!